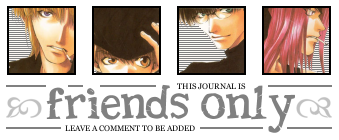 Thank you SO much
dizzy_moogle for the beautiful friends only banner! <33

I'm going Friends Only

I have nothing against anyone. So it's seriously nothing personal. It's just that anyone who reads my journal is on my friends' list anyway, so I just decided I'd make it friends only, after over a year of having lj. I don't have a big long rules list or anything right now but if you want to be added, please comment to this entry. ttfn.